Fourth generation farmers, devoted to growing quality, farm fresh produce for Toledo area families.
Up at 5am, getting our hands dirty before dawn. It's all in the life of our hard working farming family. We're the Keil's and we've dedicated our lives to providing quality farm fresh produce to generations of northwest Ohio area families.
Life as farmers is a busy one, but the rewards far out weigh the time spent cultivating the finest area fruits and vegetables for your family. Oh sure, we worry about equipment breaking, too much water, too little sun, hot winds along with life's regular "challenges" of raising a family. But our passion for farming far out weighs any challenge that comes from the love of farming our Ohio land. We care about the land, its use and upholding our farming traditions and family values along the way.
"We're good at farming and have been growing the best home grown, farm fresh vegetables and fruits since 1955. It's a dawn to dusk life, a life we want to continue for generations to come."

- Doug and Lisa Keil
About the Keil's Produce and Greenhouse Family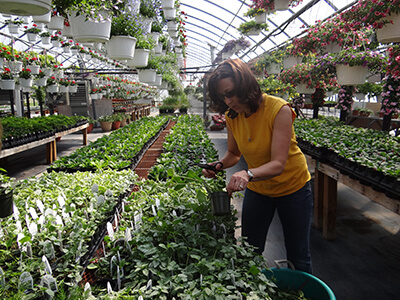 Doug Keil was raised on the farm and is the master grower, in charge of agriculture, crop production and tending to the land. Doug is a fourth generation farmer in the northwest Ohio area. Working the greenhouse and farm market is wife Lisa Keil. Lisa is a mega talent in her own rights, by planting and designing the flower baskets and running the greenhouse and farm market, spring through fall.

Keil's Produce and Greenhouse is open late April usually through the end of October. In April through June, we feature our oversized annual flower baskets and planters, perennial plants and flowers and planting vegetable plants. July through October, we featuring farm fresh fruits and vegetables sold at our very own farm market 7 days a week.